Mulberry Spun Silk Yarn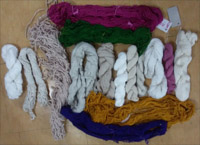 We offer a range of Spun Silk Yarn, where in we do not extract the noil. It is made available in 1/40'NM, 1/60'NM and 2/60'NM specifications. Being highly economical than the others, this yarn applies very well for Carpets, and weft fillings.
Our range of combed spun silk yarn is available in the specifications of 2/60'NM, 2/140NM and 2/210'NM. It is extremely suitable for blouse material, saree borders and drape fabrics. Spun silk when used on fabrics will give smooth wear unlike filament silk.
Available in:
1/20NM, 1/30NM, 1/40NM, 1/60NM, 2/20NM, 2/30NM, 2/40NM, 2/60NM, 2/80NM, 2/120NM, 2/140NM, 2/210NM
Indian
We offer a wide range of Spun Silk Yarn in India
• Peacock Spun Silk Yarn
• Elephant Spun SIlk Yarn
• Double Eagle Spun Silk Yarn
Counts Available:
1/30NM, 1/40NM, 1/60NM, 1/80NM, 2/20NM, 2/30NM, 2/40NM, 2/60NM, 2/80NM, 2NM
Chinese
We have a wide range of Imported CHinese Spun Silk Yarn with brands such as SPO, SPCC, JSPL, SPA & Z18
Available Counts:
2/60mm, 2/140mm, 2/210mm
Enquire Now